Welcome back everyone! Today I wanted to write a short-ish post talking about my anticipated releases for 2019, reflect on my reading in 2018 and then explore my 2019 reading goals, which I haven't thought about until today. Since I have been a bit out of the loop with the book community in 2018 due to difficult course work, I am not as familiar with the books coming out this year as I would have liked to be. However, there are four books that I have been patiently (or not so patiently) awaiting!

Priory of the Orange Tree By Samantha Shannon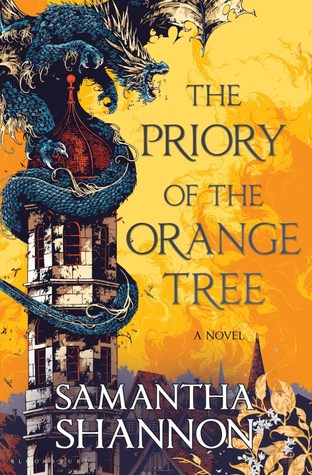 This book excites me so much. My impression of this book is a cool, female-centric fantasy society involving dragons and political intrigue. And honestly that is all I know. I get a lot of really thrilling vibes from what I have seen of this book so far from following Samantha Shannon on Twitter and Instagram. I'm sort of picturing a super cool combination of The Dragonriders of Pern series by Anne McCaffrey and the Temeraire series by Naomi Novik, my two favorite series with dragons of all time. That being said I have a bit of a difficult time getting into political intrigue so I'm hoping that I still end up loving it.

This book will be released on February 26th.

In An Absent Dream by Seanan McGuire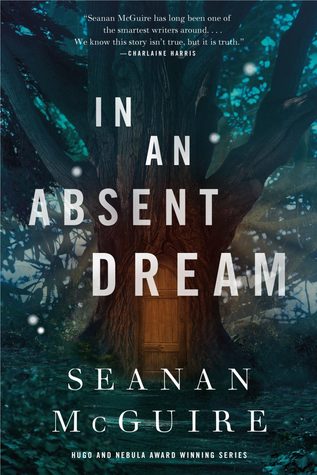 This is another book that I am super excited about! I love The Wayward Children series and I can't wait until the next installment. The second and third books in this series have gotten pretty mixed reviews from the people I follow on social media, but I have loved each and every book and learning more about these characters.

This is actually the series that brought Seanan McGuire to my attention and I have just been loving her ever since. In 2018 I picked up Sparrow Hill Road as well as Dusk or Dark or Dawn or Day, both of which are very interesting ghost stories and both just so well written. Her writing is this subtle blend of whimsy and eerie that I just feel very drawn to. Her characters defend themselves with wit in a way that I feel is very difficult to do well and I just eat it up.

This book will be released on January 8th. Tomorrow!

Another Seanan McGuire made my list and the synopsis is just so darn compelling I feel like everyone should be talking about it more than they are. This book is about a set of twins "created" by someone named Reed who wants to shape them to become gods so that he can use their power. How cool does that sound? Similarly to Priory of the Orange Tree, this synopsis makes me think of two other books that I hope this lives up to. One is The Lathe of Heaven by Ursula K. Le Guin, a book about a man whose dreams become reality once he has awoken and his therapist who wants to use his abilities for selfish means. The other is The Library at Mount Char by Scott Hawkins. This is a book that was somewhat popular in the book community a year or so ago and is about a group of children raised by a mysterious man who may or may not be God, and they are all in training to replace him and inherit his library that holds all the secrets of the universe.

I'm sure you all can see why this book gives me those sort of vibes, and that coupled with the fact that I have yet to read a book by Seanan McGuire that I don't like, my expectations are quite high. Hopefully my high expectations don't end up causing me to be disappointed with the finished product, but I remain optimistic.

This book will be released on May 7th.

The Winter of the Witch by Katherine Arden

This is one that I was not sure I should include on this list because I still haven't read The Girl in the Tower, which is the second book in this series. The first book, The Bear and the Nightingale, was one of my favorite books ever and brought me back to the ambiance of Uprooted by Naomi Novik which was one of my favorite reads of 2016. The Bear and the Nightingale, however, had more of that fantastical feel that I have realized is one of my favorite styles of writing.

However, I decided to include it because while I have not continued with this series since reading the first one, it stuck in my head and I have been meaning to continue it ever since, and thus am very excited for this third installment.

This book will be released on January 8th. Wow, also tomorrow!

~~~~

So now to talk a little about my reading in 2018. It was definitely a good reading year for me. For the most part I really enjoyed what little I read, so much so that it was pretty tricky to select my least favorite reads of the year without including DNFs, which I think is cheating. But I definitely didn't get to read as many books as I wanted.

There's a few reasons for this, one of which being that I was just in a huge reading slump. I don't even remember which book set it off, but it was just debilitating for most of the second half of the year. I couldn't finish ANYTHING. I would pick up book after book that I know I was interested in reading and am still interested in reading now, read a few chapters or even just a few pages and I would just put it down. I think a lot of it had to do with the fact that I was really struggling with my mental health and when I feel that way even just picking up a book feels like such an ordeal and I just can't do it. But I finally got some help during the summer months and felt like I could do things again, but then it was school.

And school majorly kicked my ass in 2018. The fall semester was the most difficult time I've ever had in my life for school, and while it meant that I just didn't have any time to read, I did it. I managed to get A's and B's in all of my classes when I thought I was going to fail at least one of them the entire time. But what I learned is that I need to be able to find a balance between working full-time, being a full-time student, and still being able to do the things I love in order to stay sane.

Which brings me to my 2019 reading goals. I set my Goodreads challenge to 37 books since that is how many I read in 2018, but I'm really going to try to just read at least two books a month. At least until I graduate in August, because after that I won't have to be stressing over weekly exams and a million quizzes every week. Right now I'm doing a buddy read with my friend Kathleen for In the Woods by Tara French, and although I'm way behind for where we were supposed to be by today, I'm really enjoying it and am looking forward to discussing it with her since she actually knows how to analyze books. I think this year needs to be the year that I stop being so hard on myself and really just learn to like myself as I am. It's not easy for someone as self-critical and generally sad as myself, but I'm going to try my best.

What are some of your 2019 goals?